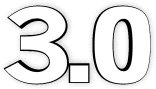 version 7 product info
(menu & website system)

FEATURES
This system allows you to choose from many different menu types (e.g. horizontal, vertical, tree, combo, etc.) so you can see which one looks and functions best for your web page layout.

And because it uses templates, you can always change the website's look and feel without affecting the menu system.

This way you can get the "look and feel" you want for both the menu and the website without being totally locked in to the menu system you decide to purchase.

While not like other menu systems that give you short term gratification by adding a menu to one webpage at a time, this menu system looks at the big picture and how it can make things easier overall in the long term by looking at the entire website.

BRIEF
HISTORY
Before version 7, Template and Menu Hot Sauce, was a menu system for websites allowing web designers and developers to use their own images/graphics/buttons, table layout, css, scripts, server side language etc.. It also featured extreme cross-browser compatibility, "GPS like" context sensitive menu system, complete site and sub-section updateability, and very high scalability. It basically had fulfilled the long list of characteristics for the theoretical "ideal" menu system except for one thing, "it was too difficult, and almost impossible, to learn and understand".

Because it used not only templates, but also "nested" templates, even experienced and expert users of templates had a very difficult time implementing this technology in the real world. If it weren't for the ability of nested templates to both update the entire website and sub-sections of a website separately, learning and using nested templates would not be worth all the time and effort to make long term website maintenance easier.

Nevertheless, over time, additional features were added to create this nested template technology easier for novices and experts alike.